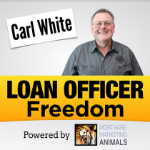 Episode #163  Loan Officer Freedom
Your Host – Carl White
Breaking The Barriers in Video Marketing For Loan Officers
Have you jumped on board with video marketing yet? If you haven't, now is definitely the time. In this episode of Loan Officer Freedom, the #1 podcast for Loan Officers, special guest and owner of edumarketing, Ginger Bell, joins me in talking about breaking the barriers of self-doubt and questioning what to say in your video marketing.
If you're interested in finding out how to close even more loans (without working more hours)? Set up your complimentary strategy call today by visiting, LoanOfficerStrategyCall.com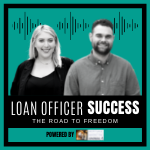 Episode #8 Loan Officer Success
Your Hosts – Mike Cardascia & Erica Homefield
Learn How To Get Off The Roller Coaster of Loan Production To Gain Consistency
Go ahead and hit the play button as your hosts, Mike Cardascia and Erica Homefield, are joined by their special guest, seasoned Loan Officer Dominic Gonzalez who was recently featured in Top Agent Magazine.
In this episode, Dominic shares how Mortgage Marketing Animal's coaching program and the family style and friendly environment has pushed his business through the roof.
If you'd like us to help you plan your next steps in growing your mortgage business with the tips we've shared on this episode, set up your complimentary strategy call today by visiting, LoanOfficerSuccessCall.com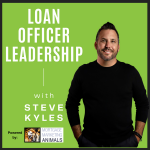 Episode #110 Loan Officer Leadership
Your Host – Steve Kyles
Toni Taylor: 3 Strategies for the Right Mindset and Growing your Business
Steve Kyles interviews Toni Taylor to discuss 3 Strategies for the Right Mindset. You will learn the importance of not quitting and staying tethered to the right group of people. Some topics discussed in this episode include becoming conscious about the internal dialogue, allowing peers to speak to you to help you build confidence, analyzing what you allow yourself to consume, and many more valuable topics.
Are you interested in finding out how to close even more loans (without working more hours)? Set up your complimentary strategy call today by visiting, www.FreedomPlanningCall.com